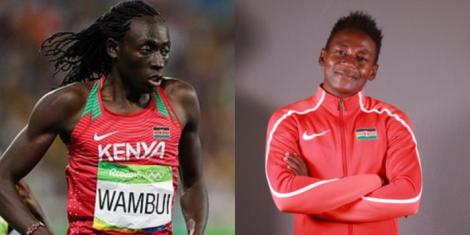 On May 1, 2019, the Court of Arbitration for Sport upheld the IAAF rule on athletes with high levels of testosterone taking medication to lower the levels if they wanted to compete in distances between 400m and a mile in Olympic or the world championship competition. 
A number of female athletes all over the world were hit hard by the regulation, with some having lost their livelihoods. 
TeamKenya.co.ke looks at some of the Kenyan athletes that have suffered as a result of having high levels of testosterone.  
The affected athletes that have suffered been said to have Difference of Sexual Development (DSD) and naturally high levels of testosterone include Margaret Nyairera Wambui, Maximilla Imali and Evangeline Makena. 
Also Read: Wafula Defies Odds To Earn World Championships Spot
Margaret Nyairera Wambui  
Margaret Nyairera was the 2016 Olympic Siver medalist in the 800m race in Rio, Brazil. 
The Olympic Silver medalist was banned by Athletics Kenya from taking part in Stockholm Diamond League on May 30, 2019. 
Wambui cannot contest any distance between 400m and one mile in the female category unless she artificially reduces her testosterone levels.  
The 26-year-old has not raced competitively since July 2019. 
Maximilla Imali 
Maximilla Imali holds the national record in the 100 race and was a silver medalist in the Africa Championship 2022. 
In 2019 she was dropped from the Kenyan Relay team for the IAAF World Championship in Japan. 
However, the 26-Year-old is the only female representing Kenya in the 100m race at the 2022 Birmingham 2022 Commonwealth Games. 
Evangeline Makena  
The 24-year-old 400m athlete was also a victim of the ruling by the Court of Arbitration for Sport 
She was dropped alongside Maximila as a precautionary measure taken by Athletics Kenya after a blood test revealed that they had high testosterone levels in their blood. 
Also Read: Former Chelsea Team Doctor Assigned Special Role in Kenya