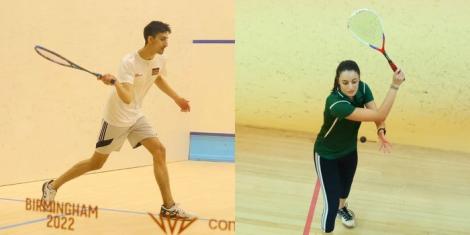 Team Kenya Squash at the 2022 Birmingham Commonwealth Games is made up of two siblings, Khaaliqa Saddrudin Nimji and Muqtadir Saddrudin Nimji. 
Kenya is assured of a podium position after Muqtadir Saddrudin advanced to the finals after defeating Shawn Simpson from Barbados.
Muqtadir will be playing in the final on Wednesday, August 3 at 12:30 pm local time.
Also Read: Birmingham 2022: Samwel Imeta Impresses in Men's 100M Heats
His sister Khaaliqa Nimji failed to progress beyond the quarter-finals stage after she suffered a loss to Guyanese Mary Fung-A-Fat. 
But history was made in 2010 after Khaaliqa Nimji became the youngest athlete ever to compete in the Commonwealth Games at the age of 12. 
Khaaliqa took up squash when she was five thanks to her Dad Sadruddin Nimji. In a past interview, Khaaliqa noted that she started with tennis, but she ended up liking the game. 
In order to train for the 2018 Commonwealth Games in Scotland Khaaliqa put her education on hold for two years. 
The younger brother Muqtadir is based in the UK at Birmingham University where he is pursuing Sports Science. 
Squash is a game in which two opponents compete on a walled field. The players take turns hitting a small rubber ball against the front wall whereby if the ball is not returned before it bounces twice, the opponent wins a point.  
The game is won by the first player to hit 11 points, but in singles, if the score is ten-all, the game lasts until one contender achieves a two-point lead.
Also Read: Peter Kabaso Obalo: Kenyan Makes History at Birmingham Commonwealth Games