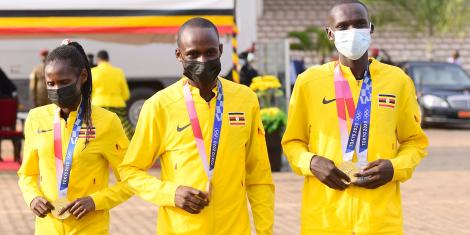 Uganda continued its dominance in the men's 10,000m at the Birmingham Commonwealth Games after Jacob Kiplimo finished in pole position.
Uganda had suffered a setback after world champion, Joshua Cheptegei, announced his withdrawal from the race. 
However, Kiplimo stepped up in the absence of Cheptegei to maintain Uganda's domination of the event by defeating Kenya's Daniel Ebenyo, Kibiwott Kandie, and Edward Zakayo Pingua, who finished second, third and fourth respectively. 
Also Read: Investigative Journalist Explains Why Kenyans Dominate Long Distance Races
Uganda's dominance began with Boniface Kiprop in 2006, followed by Kipsiro in 2010 and 2014, Joshua Cheptegei in 2018 and Jacob Kiplimo in 2022. 
The past two champions hail from Kapchorwa training camp, the home of Uganda's long distance runners. 
Melbourne 2006: Boniface Kiprop 
New Delhi 2010: Moses Ndiema Kipsiro  
Glasgow 2014: Moses Ndiema Kipsiro  
Gold Coast 2018: Joshua Kiprui Cheptegei  
Birmingham 2022: Jacob Kiplimo 
At the 2020 Tokyo Olympics, Uganda took four medals all won by athletes from Kapchorwa.  
Kapchorwa is located in the Mount Elgon area that borders Kenya. The word Kapchorwa means 'Home of Friends'.  
One of the main advantages of training at the high-altitude camp is that it helps athletes boost the production of more red blood cells to help oxygen delivery to the muscles.
Also Read: Time When Kenyan Athlete Got Gold Medal After Receiving Help from Foreign Rival