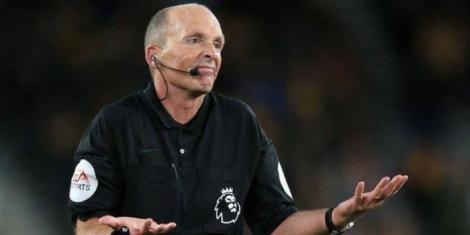 English Premier League (EPL) referee, Mike Dean, has accepted that he made a mistake in officiating during a past match. 
Mike Dean noted that he regrets not sending referee Anthony Taylor to his pitch-side monitor for Cristian Romero's hair pull on Marc Cucurella during the Chelsea vs Tottenham match. 
The London derby fixture was played on Sunday, August 14 at Stamford Bridge and ended with a 2-2 draw. 
Also Read: Jim Ratcliffe's Spokesperson Speaks on Plans to Buy Manchester United
Dean was responsible for the VAR in the hotly contested match.
In the last minutes of the match, Romero dragged down Cucurella, an incident that many felt should have resulted in a red card for violent conduct before Harry Kane headed home a 96th-minute equalizer from a corner. 
According to reports, it is the first time in Premier League history that an official has fronted up after playing a part in a game. 
The 54-year-old referee noted that during the match, he had a few seconds to analyze the incident, which at the moment did not seem violent in nature.
However, he noted that after the match, he studied the footage and consulted other officials concluding that he should have referred the referee to take a look at the incident. 
"For the second goal by Harry Kane, I asked referee Anthony Taylor to wait while I looked at the incident involving Tottenham's Cristian Romero and Chelsea's Marc Cucurella. 
"I could not award a free kick as VAR, but I could recommend to Taylor that he visit the referee review area to consider a possible red card. In the few seconds, I had to study Romero pulling Cucurella's hair, I didn't deem it a violent act. 
"I've since studied the footage, spoken to other referees and, upon reflection, I should have asked Taylor to visit his pitch-side monitor to take a look for himself. The referee on the field always has the final say," Dean noted. 
The experienced official added that through the incident, it was clear that no matter how experienced one is, each day they learn a thing or two. 
"It goes to show that no matter how experienced you are, and I've spent more than two decades as a Premier League official, you are always learning. It's disappointing for me as this was one incident in an otherwise very good weekend from our officials," Dean added. 
Also Read: Purity Nekesa: Starlets Footballer Serving in Police Service