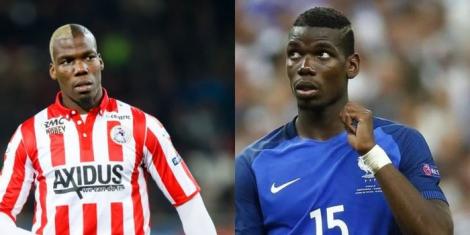 Mathias Pogba and four other accused persons were charged on Saturday by a French court over the alleged extortion of his younger brother Paul.
Mathias pleaded not guilty and thus the judge ordered for his detention alongside three other people who were accused of being involved in the saga as the formal investigation continues.
Paul filed a lawsuit against his brother claiming that a gang that was made up of his childhood friends had extorted him since March this year.
Also Read: Pogba Paid Wizard Millions for Protection From Injury - Brother
Mathias had shared a number of videos on social media in August alleging that he was in possession of explosive secrets regarding the Les Bleus midfielder.
In one of the videos that went viral online, he accused the Juventus star of practicing black magic on Paris Saint-German attacker Kylian Mbappe.
Mbappe who was part of the French team that won the 2018 FIFA World Cup decided to side with his French teammate stating that he preferred to believe Paul's words.
Yassine Bouzrou, Mathias' attorney, told reporters that his client is innocent and they are going to appeal the court's decision.
As the case continues, Pogba risks missing the eagerly awaited 2022 FIFA World Cup to be staged in Qatar later this year due an injury. 
He suffered an injury during a training session with Juventus and recently underwent a surgery.
The 29-year-old has not started a game for the Old Lady this season, making his chances of representing France at the World Cup very slim.
Also Read: Pogba's Brother Accuses Him of Using Blackmagic Against Mbappe