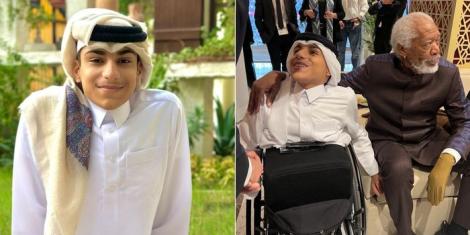 Ghanim Al-Muftah proved during the opening ceremony of the 2022 FIFA World Cup that disability cannot prevent someone from reaching greater milestones in life.
The Qatari boy recited the Quran and joined famed American actor Morgan Freeman, in spreading a message of peace at the colorful opening ceremony held at Al Bayt Stadium. 
Muftah's performance on one of the biggest stages in the world not only caught the attention of millions of people around the globe but also touched them.
Also Read: World Cup: Kenyan Security Guard Narrates Inhumane Conditions He Faced in Qatar
TeamKenya.co.ke looks at the story of Muftah, a teenager from the miniature Gulf nation, who continues to inspire many individuals from different corners of the universe. 
Ghanim was born without the lower body, that is why he moves around using his hands. He can also drive a car. 
The soft-spoken boy has a condition called Caudal Regression Syndrome which impacts the development of his lower spine.
It can also affect the gastrointestinal tract, lower backs and limbs as well as the genitourinary tract.
Muftah, who is currently pursuing a course in political science, has a twin brother who was born normal.
The 20-year-old is also very active in social media platforms and boasts of over two 2,000,000 followers on his Instagram page and more than 100,000 on Twitter.
Moreover, he has crammed the entire Quran, something which is not that easy to do since the Islamic Holy Book has 77, 430 words, with 18,994 unique ones. 
Muftah was once invited by the chairman of the Saudi Arabia Tourism Commission, Prince Sultan bin Salman, to go for a pilgrimage in the holy city of Mecca.
According to Alarabiya News, Muftah did not use his wheelchair while undertaking the pilgrimage.
Also Read: How Clubs With Players at Qatar World Cup Will Share Ksh25 Billion