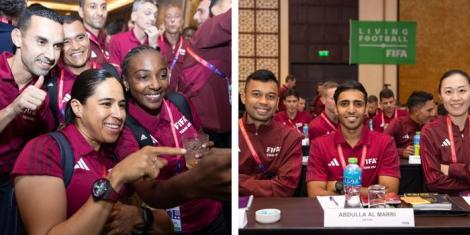 The FIFA World Cup Qatar 2022 has seen multiple records being broken by teams and players with four matches already played. 
The match officials have adopted a new approach in officiating games with a lot of stoppage time being administered in the matches. 
This has brought about a debate online with many praising FIFA for the approach to stop time wasting by players.
Also Read: Drama That Marred FIFA World Cup Match Day Two
According to Chairman of FIFA's referee's committee Pierluigi Collina, the fourth official has been instructed to keep track of time lost during the game during the tournament in Qatar. 
The different teams scored in all the additional stoppage time. 
The new approach is also part of a joint effort by FIFA to tackle the issue of time-wasting by accurately monitoring the amount of time the game is stopped. 
Additional time arises from injuries, video assistant referee (VAR) decisions, substitutions, penalties/fouls, bookings (red/yellow cards) and time-wasting by some players. 
The three matches that have broken the record for the most stoppage time in a single World Cup match since 1966: 
England vs Iran (27 minutes)  
USA vs Wales (10 minutes)  
Senegal vs Netherlands (10 minutes)
Also Read: Liberian President's Son Scores Crucial Goal in World Cup Debut