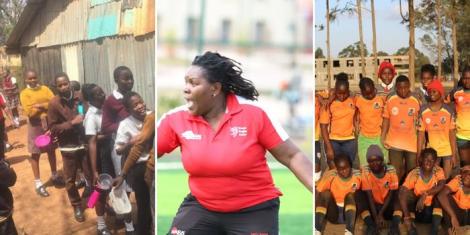 Sarallyne Agola, one of the most accomplished rugby stars in Africa, is a woman on a mission.
Unlike other players, who retire and distance themselves entirely from rugby, the ex-Kenya Lionesses captain has dedicated her life to changing the lives of girls and women in society.
Agola established a foundation known as Sanara Sports Foundation where she transforms the lives of young girls in Kenya.
Also Read: England International Maro Itoje in Kenya to Help the Needy
According to the Kenyan star, through the game of rugby, she helps girls stay in school by preventing issues such as early pregnancy. 
"It takes teamwork, passion, and hard work to grow the game of rugby, we are in a male-dominated sport, and there is no better way to grow the game other than understanding the game itself.
"My experience so far has taught me that a journey of thousand miles starts with a step. For that reason, I am using Rugby as a tool to keep girls in schools, prevent early marriages, and fight gender-based violence at home and at school.
"I am an agent of change and I will use the game to transform our societies, let's grow the game. Let's support girl child," a statement on her LinkedIn page read. 
Agola, who was among the Kenyan side that made history by qualifying for the first Olympic games in 2016, explains that her objective is to make girls make it in life.
"It pains me when young mothers are struggling to take care of young ones, but because a mistake is not a mistake until it's repeated again. 
"I am out to ensure they do not miss school because of food, they do not miss training because they are hungry, and they do not miss a shoulder to cry on. 
"We feed, coach, empower and support them. We train them and ensure they become future stars," she ended.