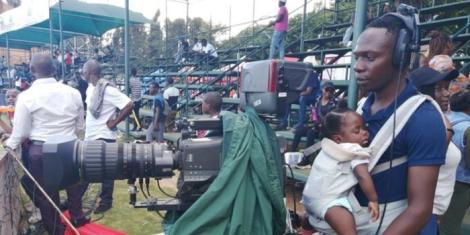 A picture of a Zimbabwean photographer touched the hearts of many people on Tuesday, January 16, 2023, thanks to his rare gesture.
The man's photo in which he is recording a T20I cricket match between Zimbabwe and Ireland while carrying his young daughter in a baby carrier went viral after he shared it on Twitter under the handle "@MhofuyaSoko."
In the photo that was later peaked up and shared by popular Kenyan journalist Carol Radull, Soko was seen busy at his job while the baby nestled on his chest.
Also Read: Kenyan Athlete Speaks About Heart-Warming Gesture That Went Viral
Radull commended the cameraman for his heart-warming action.
"Hats off to this cameraman who was recording a cricket match at the Harare Stadium in Zimbabwe. His beautiful daughter cooperated well," stated the media personality.
Kenyans took to Radull's Facebook page to express their opinion on the heart-warming photo. 
One Laban Lemiso described the image as the photo of the day while commending all fathers who give their all to fend for their families. 
However, other Kenyans who commented on the photo refused to believe the story behind the photo.
For instance, Steve Ruigu Njuguna, an experienced journalist, argued that it is difficult to multitask when covering a match.
"Those of us who have done outside broadcasts know this is just staged. The level and intensity of work involved here do not allow for multitasking.
"Also, there is literally no reason to expose a baby to all those natural elements. Guys literally stand in the open for eight hours with a camera weighing a ton in the scorching heat. No way you can expose a kid to that," explained Njuguna.
The Zimbabwean photographer equally received love from international personalities, including South African-based author James Hall, who claimed to know the photographer.
"I've nothing but admiration for the cameraman recording yesterday's cricket match at Harare Sports Club for his mastery of both his duties to fatherhood and his profession. His beautiful daughter is cooperating splendidly," stated Hall.
Also Read: Former UTMB Champion Pau Capell Full of Praise for Kenya