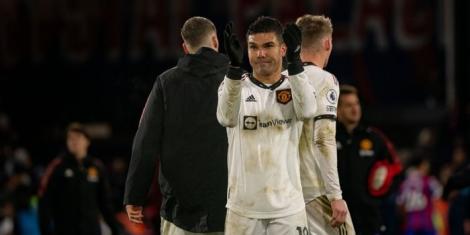 Manchester United boss Erick ten Hag expressed his confidence to defeat Premier League leaders Arsenal without star midfielder Casemiro. 
Speaking after United's 1-1 draw to Crystal Palace on January 18, the Dutch manager highlighted that the last time both sides met, United won without the Brazilian. 
Prior to the Palace match, Casemiro was one yellow card away from suspension. As per the Premier League rules, if a player picks up five yellow cards in their first 19 matches, they are suspended for one game.
Also Read: Jim Ratcliffe Publicly Declares Interest in Manchester United
"Casemiro is obviously an important player to us and he is one of the reasons that we are in the position we are in now. But also, last time we beat Arsenal. 
"We have to do it without him... We have to make a good plan," Erik ten Hag stated during his post-match press conference at Selhurst Park. 
When asked why he risked playing Casemiro, the Red Devils manager noted that every match in the Premier League is important. 
In the same match Dutch forward Wout Weghorst made his debut after joining United on a loan deal from Burnley. 
Weghorst was in the starting lineup before he was taken off in the 69th minute and replaced Scott McTominay. 
Ten Hag noted that Weghorst had a good match highlighting that it was his run that freed up Bruno Fernandes for the first goal in the 43rd minute. 
However, Palace's ace Michael Olise denied United all three points with a stunning free-kick in added time to ensure the game ended 1-1. 
United is currently positioned third in the Premier League tied with Manchester City on 39 points.
Also Read: Revealed: How Chelsea Beat Arsenal to Sign Mudryk