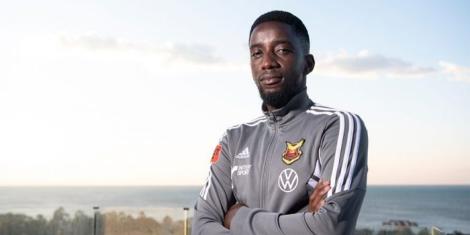 Former Kenya national football team goalkeeper Arnold Origi has been appointed as a coach for Swedish side Östersunds FK.
Origi was appointed on Tuesday, January 31, to head the goalkeeping training for the club's first team.
"In connection with the camp in Antalya, Östersunds FK has finalized a new responsible goalkeeper coach.
"The Norwegian-Kenyan Arnold Origi will be responsible for the goalkeeper training within the A-team in the coming time. We wish Arnold a warm welcome to ÖFK," part of the club's statement read.
Also Read: Mashemeji Derby Fetches Over Ksh 3M in Ticket Sales
According to the club's statement, the 39-year-old veteran goalkeeper has a huge background in high-level competitive matches.
In his active football career, Origi played mainly in Norway featuring for clubs like Lilleström, Helsingfors IF and Moss FK.
It was revealed that the former golkeeper made friends with Östersunds FK head coach Magnus Powell during his time in Lilleström. 
In his statement, Stefan Lundin, sporting director at Östersunds FK highlighted that the addition of Origi would help the team develop further.
"It feels very good that we have found a solution with Arnold and we look forward to seeing him contribute to the goalkeepers' and the team's further development, Stefan Lundin noted.
On his part, Origi expressed his gratitude while he was moving to the next chapter of his career as a goalkeeper coach.
"A different position, but the joy, passion and pride o work ad for work still remains the same," Origi noted.
Also Read: Jalango Proposes New Football League Format to Ababu