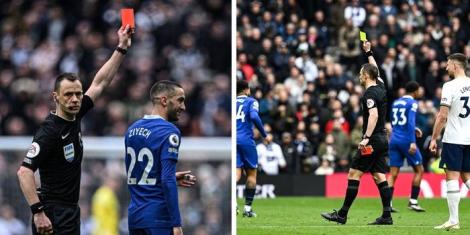 On Sunday evening, February 26, 2023, there was drama before the end of the first half in the English Premier League encounter between Chelsea and Tottenham Hotspur.
Chelsea winger Hakim Ziyech was shown a straight red card after he appeared to have hit Tottenham defender Emerson Royal in the face.
The decision to send the Moroccan international for an early shower was made by the Video Assistant Referee (VAR) officials.
Also Read: Toni Kroos Receives First Career Red Card Aged 32
They told the centre official Stuart Atwell that it was a straight red card.
However, when Atwell went to the monitor to view the incident himself, he overturned the red card and showed Hakim a yellow card. 
Experts argue that Atwell overturned the decision because Ziyech hit the Brazilian international in the face unintentionally.
Jimmy Floyd Hasselbaink, a former Chelsea player was one of the pundits on Sky Sports during the match.
He stated that Hakim touched Royal's face after being pushed. 
"Well done to the referee for returning it from red to yellow. I think it is the right decision - I think he wanted to push him away on the shoulder but slipped and caught him in the face. 
"It is common sense from the referee but on the other hand, very lucky for Chelsea.
"When you see it from the other angle, then he needs to be sent off, that is why he is lucky because a different referee on another day might have not switched the decision around." he was quoted by Football London.
The London derby ended 2-0 in favour of Tottenham with Olivier Skipp and Harry Kane scoring the goals for Spurs.
Also Read: Rigobert Song: Youngest Player to Be Red Carded in World Cup History