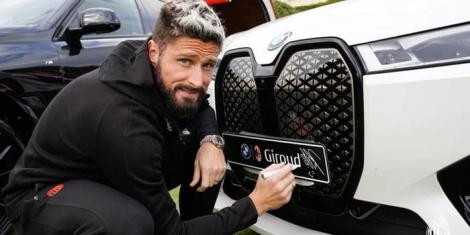 AC Milan players received a fleet of 25 different BMW Italia branded vehicles in a partnership between the football club and the manufacturer on Friday, September 30.
The 2021/22 League champions partnered with BMW Italia as its automotive sponsor for the past two years.
BMW Italy manager, Massimiliano di Silvestre, handed over the cars to the Serie A club captain Davide Calabria. 
Also Read: Football Legend Kaka Shares His Experience After Marathon Debut in Berlin
"We are here with you today because we have shared this ambition for the last two years, through our extraordinary products which embody our vision of the mobility of the future, and you through the emotions that the game of football can express at the highest level," Massimiliano di Silvestre noted 
Among the selection of cars that the players received included the new BMW XM, BMW X5, BMW X6 and BMW iX. 
Speaking after receiving the cars, French forward Olivier Giroud noted that he chose the BMW iX for its ability to have high performance as it protects the environment. 
"My car keys are always with me! I am a big fan of sports cars: I like the roar of the engine, it gives me adrenalin, I can have the same feeling as when I score a goal in front of our fans.  
"I don't go too fast, but when I can I really enjoy driving and BMW is the perfect car to get behind the wheel in a comfortable and dynamic way," Giroud added. 
The Rossoneri President, Paolo Scaroni, noted that the BMW XM reminded him of the club as it represented elegance, power, youthfulness, innovation, and above all, the result of great teamwork. 
"Today's event is a renewed confirmation of a successful partnership between two global brands, outstanding in their respective fields, synonymous with success and style,' the AC Milan president highlighted.
Also Read: Documentary Reveals How Haaland Chose Man City Over Bayern, Real