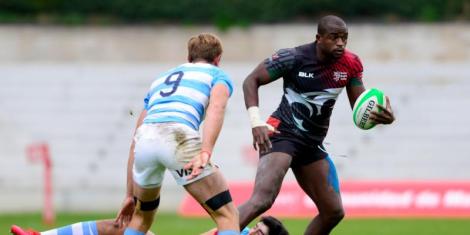 Shujaa rugby player Willy Ambaka announced that he will be playing his last match at the Sydne 7s tournament in Australia.
Ambaka announced the decision through a statement he posted on his social media platforms on Thursday, January 26.
His retirement marks an end to an illustrious 13-year career as a player under the Kenya Rugby Union.
Also Read: Shujaa Veteran Collins Injera Retires
"After thirteen incredible years playing for the Kenya Rugby Union, I'm beginning to understand that while pursuing great things, it is the pursuit that holds the greatest value.
"While it has been a tremendous journey, now it is time to pull the curtains on my International Rugby 7s journey. This is why I have come to the decision that I will be playing my final leg in Sydney this season," part of his statement read.
In his statement, the rugby player noted that he has achieved many of the dreams he had when he was in school.
As a rugby player, Ambaka was part of the Shujaa team that won the final in Singapore in 2016.
He has also featured for Shujaa in two Olympic Games, two Commonwealth Games, and three Rugby 7s World Cups.
Ambaka thanked his previous coaches including the late Benjamin Ayimba for their involvement in his career.
The 32-year-old played for international clubs from  France, New Zealand, South Africa, and Russia.
He also highlighted that through his career many African parents changed their perception that professional sports aren't a career path.
Shujaa is currently in Australia for the Sydney 7s which kicks off on Friday, January 27, with the Kenya rugby 7s national team taking on South Africa in their first match.
Also Read: Humphrey Kayange Pens Heart-warming Letter to Collins Injera After Retirement