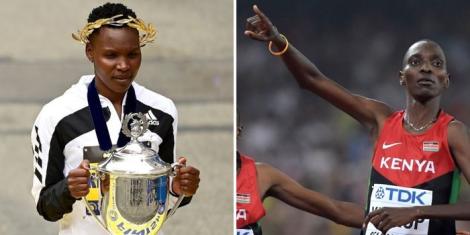 Shortcuts are sometimes dangerous because they can make people waste the hard work, energy and time they have put to nurture their careers. 
A good example of this is seen in the sporting sector where most Kenyan athletes have ended up ruining their impressive careers as a result of engaging in doping malpractices. 
TeamKenya.co.ke takes a look at four Kenyan runners whose promising careers came to an abrupt halt as a result of using banned substances to enhance their performances.
Also Read: Kenyan Athlete Loses Ksh18.5 Million After 6-Year Doping Ban
Diana Kipyokei
Diana Chemtai Kipyokei, one of the most decorated road race runners in the world, destroyed her career as a result of doping.  
The 28-year-old was at the prime of her career when she was slapped with a six-year ban by the Athletics Integrity Unit (AIU) due to the presence of a banned substance in her blood samples and the provision of fake documentation in December 2022. 
As a result, she lost the $150,000 (approximately Ksh18.5 million) prize money she was awarded for triumphing at the 2021 Boston Marathon.
"The Boston Athletic Association has received the Athletics Integrity Unit (AIU) update in regards to Diana Kipyokei's sanction. As a result of the completion of the adjudication process, Diana Kipyokei's result in the 2021 Boston Marathon has been disqualified. 
"The B.A.A. is in the process of adjusting race rankings and will provide prize award adjustments to top finishers of the 2021 event," read part of the statement from the marathon organisers then. 
Asbel Kiprop
Asbel Kiprop, one of the most all-rounded Kenyan middle-distance runners also saw his career end at a time when he was enjoying a fine form.
The three-time world champion was banned in April 2019 after he was found guilty of using a blood-boosting drug. 
Although he has repeatedly argued that he was innocent, his career was destroyed just like that. 
Apart from winning numerous other races, Kiprop was also an Olympic gold medalist during the 2008 edition held in Beijing, China.  
Rita Jeptoo
Who does not remember Rita Jeptoo? The queen of road race running.
The former Chicago Marathon champion was initially banned for two years but the embargo was extended to 2018  after her B sample tested positive.
The second ban made it almost impossible for her to resume running since it would have ended when she was aged 38.
Her wins at the Boston and Chicago marathons were also disqualified. 
Wilson Kipsang
Former marathon world record holder Wilson Kipsang's running career was also destroyed for failing to present himself for a doping test and for providing false evidence to the prosecutors.
Some of the major marathons that the Olympic bronze medalist won include the London, New York City, Tokyo and Berlin titles. 
Also Read: My Friends Left Me - Asbel Kiprop on Battling Alcoholism, Depression