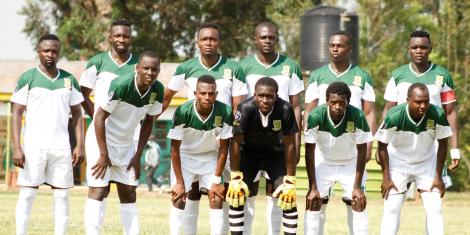 FKF Premier League club Mathare United have announced that they are unable to host or even honour a match due to financial constraints. 
Mathare United on Saturday, April 23, through a statement by club's founder Bob Munro, noted that the club for the first time in 28 years since it started featuring in the FKF leagues will be unable to host nor even attend a match. 
The Slum Boys who are at the bottom of the league were set to have an FKF Premier League match against Bandari on Sunday, April 24.
Also Read: Kenya Pooled Against Cameroon in AFCON Playoffs 
"Today is a sad day in the 35 - year history of the Mathare Youth Sports Association (MYSA) and Mathare United FC (MUFC). It's an especially sad and even painful day for me and the MUFC staff, coaches, players and their families as well as for the tens of thousands of youths in the Mathare and neighbouring slums who dream of helping themselves and their families escape poverty by someday playing for Mathare United. 
The club founder listed many factors responsible for the club's current financial situation among them including the FKF hostile takeover of the Kenyan Premier League in September 2020. 
"Those cumulative and financially destabilizing external factors included: the FKF forced expansion of the Kenyan Premier League (KPL) in February 2017, the related SuperSport termination of their KPL contract in March 2017, the necessary but difficult Covid-19 suspension of the league for five months in 2020 the FKF hostile takeover of the Kenyan Premier League in September 2020, the FKF failure to pay to clubs a fair share of the KPL broadcast/title rights revenue, the FKF mismanagement of FIFA, GOK and sponsorships funds during 2018-21," part of the statement read. 
The club's chairman also noted they pitched proposals to 48 companies to sponsor the club. However, only four companies signed contracts.  
"Since 2018, we made serious proposals and held follow-up discussions with 48 companies in a wide range of sectors, including banking, insurance, airlines, energy and consumer goods. But only four signed contracts and three of them were betting companies," Munro noted. 
"Since July 2021, I and our CEO still relentlessly tried to secure sponsors for this season but without success. This week the funds of our club, my family and many friends of our team were completely exhausted and we're sadly unable to honour today's match," he added. 
He noted that the reason that there hasn't been any sponsor for any club since 2020 is that many companies cut their pre-pandemic marketing and sponsorship budgets and the increasingly negative publicity about FKF. 
Munro was quick to highlight that the current FIFA ban has also impacted negatively on the financial situation of the club.
Also Read: Olunga in Rare Press Interview Ahead of His Club's Biggest Match