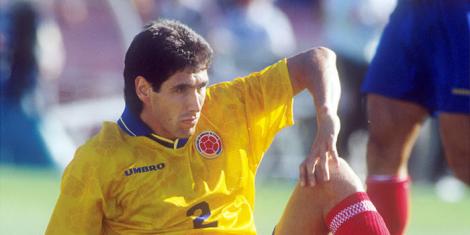 Andres Escobar, the gentleman of football, was a calm, collected, and much-adored Captain of a generation of elite Colombian footballers who traveled to USA in 94 having conceded only two goals in 26 qualifying matches.
In a final qualifying match against the hosts Argentina, Colombia won 5-0   earning a standing ovation from disgruntled Argentinan fans in Buenos Aires.
As they were preparing for the USA 94, Colombian coach Francisco Maturana urged his players to exude natural prowess a strategy that led to their exceptional performance.
Also Read: Can Liverpool Upset Man City to Lift EPL Trophy?
Carlos Valderrama, Freddy Rincón, Alexis García and Faustino Asprilla, were four of the most competent Colombian team players alongside their captain  Andres Escobar.
With such high hopes for the team which was a step away from the World Cup finals, many gamblers placed their bets on the team's anticipated success.
The Henaos brothers drug and laundering syndicate had allegedly placed a huge bet on their home team meaning a Colombian win in the tournament would guarantee a lump sum fortunes for the drug lords.
That was however not meant to happen for the Medellin-based drug cartel after an unlucky own goal by the Colombian defender in their 2-1 loss to the United States national team made a turn for the worse.
The Colombian team could not proceed to the final and had to go back home after suffering a humiliating defeat in the 1994 World Cup
Their early exit stirred resentment in Colombia and the frustrated players were walking on eggshells after countless threats to their lives.
Five days after their unexpected return Andres Escobar decided to go on a drinking spree in a local nightclub despite being warned by his teammates to lie low and wait for the backlash to cool down.
Escobar defied his colleagues insisting that he had to face his own people.
While in the club a bitter confrontation ensued between him and the two Henao brothers leading to his untimely death.
Andres was found murdered in his car with six gunshot wounds on his back and it was later established that the killers shouted "Goal" after every bullet they shot at the 27-year-old defender showing how bitter they were with Escobar's own goal.
Humberto Castro Muñoz, a bodyguard for the Henao's, was apprehended the next day and confessed to the murder of Escobar, and was sentenced to life only to be pardoned 11 years later for behaving well while in prison.
Around 120,000 people attended Escobar's send-off and his death anniversary is still marked every year.