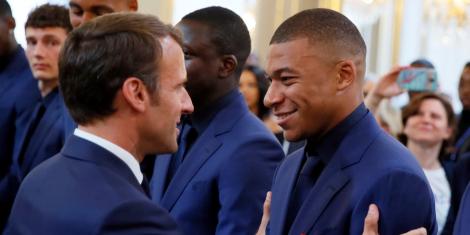 French superstar Kylian Mbappe's final decision to remain at Paris Saint-German (PSG) was partly influenced by French President Emmanuel Macron.
President Macron had been convincing the forward to remain on the home side severally over the phone for the last few months up to the very final decision-making moment.
He urged the 23-year-old that he would be better off staying at Parc des Princes because he is seen as an icon in France and could be front and center when the 2024 Olympic Games take off in the nation's capital.
Also Read: Kylian Mbampe Makes Decision on His PSG Future Amid Real Links
He also reminded the PSG forward of his status as a role model for the next generation as he urged him to consider the benefits of continuing his career in the Ligue 1 club.
Media reports in April had pointed out the French President's interest in having his fellow countryman remain at home.
Macron's concern over Mbappe's imminent transfer to Real Madrid in such an intense election period showed just how much he was keen to have the young man remain at PSG.
The soccer star's transfer seemed to have been a state issue since it has stirred anger in Spain with the La Liga president vowing to lodge a complaint against the Ligue 1 side to UEFA.
Mbappe's high regard for PSG also played a major role in his unanticipated U-turn since he has been eager to break Edinson Cavani's all-time scoring record which he has only 30 goals left to attain.
Mbappe's three-year extension at Parc des Princes comes with a new raft of changes at both the pitch and boardroom.
Additionally, Mbappe is also set to receive a signing bonus of over Ksh10 billion besides being PSG's highest-paid matchmaker in the new three-season deal. Mbappe's new remuneration package is at par with the likes of Lionel Messi and Neymar.
Meanwhile, the French president is a happy man because the great talent of the European state will not leave Ligue 1, which will obviously be a blow to Santiago Bernabéu