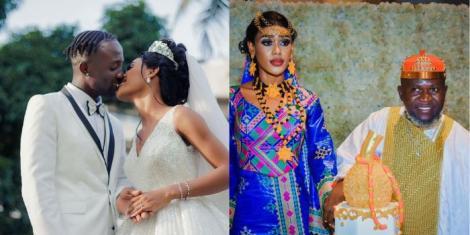 Sierra Leone footballer Mohamed Buya Turay surprised many when reports of him sending his elder brother to represent him at his wedding ceremony went viral on Saturday August 6, 2022. 
The 27-year-old was forced to miss his wedding due to unavoidable circumstances. He was scheduled to marry his lover Suad Baydoun on July 21 but something else came up before the wedding day.
According to Buya, he had landed a lucrative contract with Swedish-based side Malmo FC and the club expected him to sign the deal on July 22. Therefore, he had no other option than to book a flight and travel to Sweden on the day of his wedding to make sure the deal that was in place did not collapse.
Also Read: Rugby: Josh Weru Joins Northampton Saints
"We got married on July 21 in Sierra Leone. But I was not there because Malmo asked me to arrive earlier," Turay told Aftonbladet.
The former Henan Songshan Longmen player had taken some pictures with his fiance, dressed in their wedding attire before flying to Sweden for his official unveiling as a Malmo FC player.
"We took the pictures in advance. So it looks like I was there but I wasn't. My brother had to represent me at the wedding itself," he revealed.
Turay took to social media to announce the news of their marriage, stating that he cannot wait to enjoy life with Baydoun.
Also Read: Mercy Migongo: Story of Ex-Kenyan Rugby Player Changing the Lives of Kibera Children
"I married my sweetheart, wife and my Best friend today!!! What an amazing human being!!! And What a blessing!!! Mrs Suad Baydoun. I can't wait to enjoy life with you," read his statement.
Buya has not yet met his partner after the wedding since he is in the process of getting Baydoun the necessary documents.
The former Dalkurd FF attacker disclosed that he is planning to take his wife who he met in 2021 for a honeymoon later this year after winning the league title.
"First, we are going to win the league, and then I will go on a honeymoon," stated Turay.
Also Read: Mary Moraa Bags 800m Gold, Breaks Into a Lively Dance at Commonwealth Games