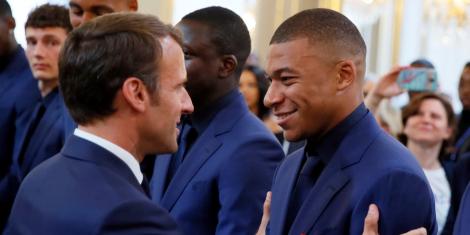 The French Football Federation (FFF) has gone back to the drawing board to review its image rights agreement with the national team players after PSG forward, Kylian Mbappe, declined to participate in a photo shoot. 
Mbappe cited disagreements over image rights standards as his sole reason for walking out on his teammates. 
Also Read: Arsenal's Ethan Nwaneri Breaks Premier League Record 
"After conclusive discussions in the presence of the executives of the French team, the president, the coach and a manager of the marketing team, the French Football Federation undertakes to revise, as soon as possible, the convention inherent in image rights which binds it to its players in selection.
"The FFF is delighted to work on the outlines of a new agreement which will allow it to ensure its interests while taking into consideration the legitimate concerns and convictions expressed unanimously by its players," the statement read. 
FFF had scheduled the official first team photoshoot to take place on Tuesday, September 20.
In March 2022, Mbappe noted that he did not want to be associated with particular brands such as betting companies. 
Since then, the PSG star has been unyielding in his stance over image rights, noting he would not endorse the brands. 
In 2010 FFF agreed that image rights would be distributed equally between the 23 members of each French squad. 
The France national team is currently in camp as they prepare for their two League on Nations campaigns where they will face Austria on Thursday, September 22, at the Stade de France, before they face Denmark on Sunday 25.
Also Read: Pobga's Brother, 4 Others Charged in Blackmail Saga