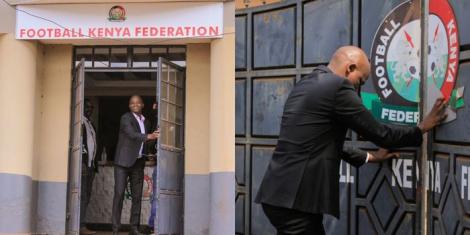 FKF president Nick Mwendwa has resumed his duties as the head of the Football Kenya Federation (FKF) after nearly a year in the cold. 
The FKF president returned to the offices in Kasarani on September 20, in the company of his deputy Doris Petra, the CEO, Barry Otieno and other officials accompanied by police officers. 
After touring the Kandanda House premises, Nick addressed the media stating that football activities in the county will return within a month.
Also Read: Nick Mwendwa Resumes Duties at Kandanda House
His major focus, he stated, was to make sure that the FIFA imposed on Kenya is lifted prior to the resumption of the game. 
"There is only one FKF, not two, there are those who have been claiming to be FKF for almost a year let them continue with their claims.   
"I would advise our youth to return to the football grounds and start training cause as I said earlier one month from today Premier League, Super League, Division 1 to the low tier leagues, all seven of them will start, "Nick Mwendwa stated. 
He as well advised officials at the grassroots to start preparing for the league and that the issue of referees will be solved.
"In a matter of days, we will have the referees undertake training before the league resumes, they are well trained," he stated. 
Mwendwa noted that the purpose of the visit to Kandanda House was to assess the situation in order to inform FIFA that the offices and communication channels are under the control of the FKF.
"I am expecting within days the ban from FIFA to Kenya to be lifted. When the ban is lifted, I want to tell you that in October 2022, both Harambee Stars and Starlets will get back to the pitch. 
"We have stayed for almost a year where our national teams could not play because of a few who decided that they can do as they please thinking that they are powerful," Mwendwa added. 
The FKF president also praised the new administration led by president William Ruto adding that it respects the youth and that wants football activities to resume as soon as possible.
"We have had engagements with the newly sworn-in government which has shown commitment towards Kenyan football's return to normalcy. In the coming days, we shall have consultations with clubs and other football stakeholders to map out a detailed roadmap for the resumption of our leagues and national team activities," he added.
On September 19, the FKF Transition Committee through its head of secretariat Linda Oguttuh announced that the FKF League would resume on October 1, a contradiction to Nick's announcement. 
Sports CS, Amina Mohamed, also issued a statement watering down FKF's attempted revival. Mohamed insisted that FKF Transition Committee was still in charge. 
Also Read: Premier League Postponed Again as Mwendwa, FKF Committee Wrangle Escalates