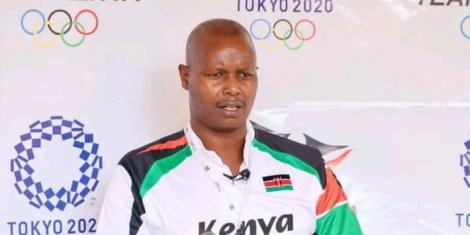 Malkia Strikers tactician Paul Bitok is a man respected not only in Africa but also in different corners of the globe for his volleyball prowess, both as a coach and a player.
However, his story could have been entirely different if Basketball had fewer rules.
Bitok, who was born in Simat, a little-known village in Uasin Gishu County, used to be a basketball player.
Also Read: Paul Bitok Proud After Chepchumba Joins Greek Side
It was only when he joined Kapsabet High School that he ditched basketball to try his luck in another sport due to the many restrictive rules that the game had.
Bitok tried Volleyball, a sport that later on transformed both his life and that of the people close to him.
At the age of 19, he made his professional debut for a club that was playing in the national league before the Kenya Commercial Bank (KCB) acquired his services.
Due to his talent, several foreign clubs scouted him, and he thus ended up signing for a Tunisian side in 2003. By doing so, he became the first Kenyan to play professional Volleyball abroad.
Bitok had a short stint in Tunisia before joining a Croatian club. In 2005, he decided to return to Kenya and ventured into the coaching profession.
His former club, KCB, employed him as their head coach, a position he successfully settled in. 
In fact, Bitok surprised many when he guided the club from a fourth-place position in the national league to the African Clubs Championship title in 2004.
Four years later, the Rwanda national team approached him, but Bitok turned them down and enrolled on a coaching course in Budapest, Hungary.
A few years later, the former Kenyan national team captain took the Rwandan job and initiated programs that turned the East African nation into one of the Volleyball powerhouses in Africa.
In 2019, he was employed as the Kenya national women's volleyball team coach for the first time, and he went on to achieve considerable success with the team. 
Bitok helped the Kenyan Queens bag an African Championship title and also led them to their first Olympic Games qualification after a 16-year-long wait.
In 2020, he was named coach of the year at the SOYA awards in a ceremony held in Mombasa.
The towering tactician recently helped Malkia Strikers win a match at the 2022 FIVB World Volleyball Championship that was staged in the Netherlands.
Moreover, under his guidance, several players, including Sharon Chepchumba and Veronica Adhiambo, landed lucrative contracts abroad.
Also Read: Volleyball Legend Paul Bitok Pens Ksh10M Deal to Nurture Talents