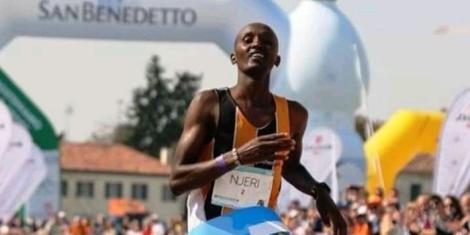 Kenyan road race runner Simon Kamau Njeri bagged the 2022 Verona Marathon title on Sunday, November 20.
The 35-year-old athlete took command of the race in the halfway mark and went on to reach the tape in a time of 2:18.46.
Njeri, who was orphaned at the age of 12, was followed by Swiss international Lucien Epiney and Australia's Dan Kelly.
Also Read: 4 Kenyan Training Camps that Have Produced Most Star Athletes
Epiney and Kelly clocked 2:27.53 and 2:29.49 to settle for second and third-place finishes respectively.
They crossed the finishing line more than nine minutes after the Nyahururu-based marathoner had already finished the race.
This is the third time in less than eight months that Njeri has triumphed in a marathon organized in Italy.
On Sunday, March 27, he produced a commanding display to win the Treviso Marathon in a time of 2:15.37.
Seven months later, the athlete who sharpens his skills at Kiambogo athletics training camp won the Sacile-based Mytho Marathon in a personal best time of 2:14.21.
Njeri resides in Nyahururu County, alongside his grandmother and two younger siblings, where they practice agriculture.
In the women's category, little-known Valeria Silvera ran away with the title, clocking one of the slowest times this year. 
The Uruguayan international crossed the finishing line in a personal best time of 2:53.41 ahead of the Italian duo of Anna Zilio and Elisa Viora.
Zilio clocked 2:56.10 to defeat her compatriot who came a distant third in 3:04.42.
Also Read: Inside Uganda's Training Camp That Has Produced 11 Olympic Medals