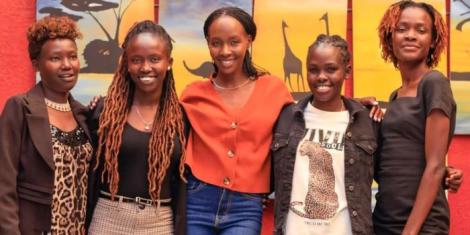 Five Kenyan elite runners including three-time London Marathon winner Mary Keitany and Joan Jepkorir are doing brilliant work off the track.
The above athletes established an organization known as the Tirop's Angels after talented Kenyan runner Agnes Jebet Tirop lost her life due to Gender-based Violence (GBV) in October 2021.
Other athletes who played an instrumental role in the establishment of the non-profit organization include 2021 New York City Marathon runner-up Viola Lagat, Joan Chelimo and Carolyne Jepkosgei.
Also Read: First Ever Female Athletics Club Unveiled in Honour of Agnes Tirop
They founded the organization alongside Tirop's father to create awareness of the GBV issue that continues to impact many families in Kenya.
The main objective of the initiative is to change norms in society that let GBV fester and enhance the structures put in place by the government to respond when women and girls need help.
The National Olympic Committee of Kenya (NOCK) on Tuesday, November 29, 2022, recognized the work that the five female runners, particularly Lagat, have been doing to help curb the vice. 
"Viola Lagat by founding the Agnes Tirop Angels has been able to make a difference in creating awareness among young women and men in athletics on the importance of building healthy non-violent relationships," a statement from the body read.
Viola is the sibling of Kenyan-born American middle-distance runner, Benard Lagat. 
Tirop died at the age of 21 and her husband was accused of committing the heinous act. 
A month before her tragic death, Agnes had smashed the 10km world record (women's only) which was set in 2002 by Morocco's Asmar Leghzaoui.
Tirop broke away alongside her compatriot Sheila Chepkirui at the 4km mark and went on to reach the tape in 30:01, slashing 28 seconds from the previous record.
In a recent interview, Viola divulged that some of her loved ones have been victims of GBV.
"I've seen it myself, within my own house, with my mother and with my sisters. Some of my sisters have been brave enough to leave their relationships.
"A man beating a woman is seen not as abuse but as normal discipline. It's not taken seriously. Men don't stand up for women. When they see a woman getting beaten, they don't do anything.
"Tirop's Angels want to change these norms. Board members have visited young people in training camps and schools in and around Iten, where Tirop lived, to talk about gender-based violence.
"They found that the girls were mostly aware of the problem, but the boys were less aware," She was quoted by Women's Running.