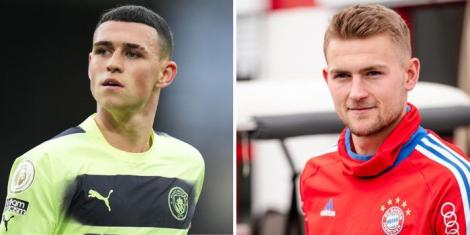 Manchester City's creative midfielder Phil Foden is among the star European footballers who started out as ball boys.
Foden, who was once described by famed manager Pep Guardiola as one of the most talented players he has ever coached, was a ball boy in 2013. 
In February 2021, after scoring a beauty against City rivals Manchester United, the England international posted a throwback photo of him engaging in the ball boy duties.
Also Read: How Liverpool Played 32 Players in Man United Loss 
Moreover, the 22-year-old made an appearance for City in 2007 as a mascot in an English Premier League match against Sunderland. 
Callum Hudson Odoi
Chelsea star Hudson Odoi, who is currently on loan at Bundesliga side Bayer Leverkusen, was also a ball boy. 
Ex-Cameroon international Samuel Eto'o celebrated one of his goals with him at Stamford Bridge during Chelsea's 3-1 victory over Manchester United in 2014.
He recently described the incident as one he will always remember. 
"I remember him scoring a hat trick and the third goal was near where I was sitting in the corner. He came over to celebrate. Obviously, I was happy for the team because they'd won and for him as well.
'When he started celebrating, I was delighted and he just saw me, came over and held my hand. For a young boy seeing a professional footballer coming to do that for you, it was crazy. I was smiling so much," he ended. 
Matthijs de Ligt
Bayern Munich and former Juventus star Matthijs de Ligt is another talented footballer who was in the past tasked with the ball boy duties.
A photo of a young Ligt and former Ajax star Luis Suarez has been widely shared on social media platforms. 
Trent Alexander Arnold
Arnold, who joined the Liverpool academy at the age of six, has had a long journey to reach the point he is today.
He was a ball boy for the club in 2014, before making his way through the youth ranks to become a dependable player for the Jurgen Klopp-coached side.
Donny Van de Beek
Similar to Matthijs de Ligt, Manchester United midfielder Donny Van de Beek was also a ball boy at Ajax. 
He was once pictured with Luis Suarez while performing ball boy duties during his childhood years.
He went on to become a dependable player for Ajax, playing an instrumental role in their good run at the 2018/2019 UEFA Champions League tournament.
Also Read: Inside Ruto's Plan to Introduce Sports Academies in All Counties