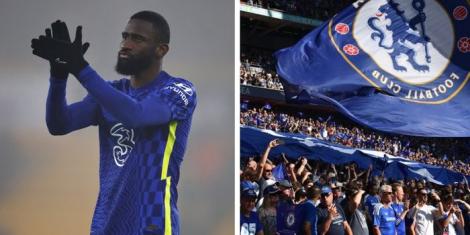 Former Chelsea defender Antonio Rudiger affirmed that he intentionally made defensive errors at Stamford Bridge to raise the ire of the crowd. 
In a recent interview on Sport 1, the German international noted that the reactions would improve the atmosphere in the stadium.
"I'll be honest. I deliberately wound people up because it was just too quiet in the stadium for me during this game.
Also Read: Chiellini Defends Man United Captain Harry Maguire
"I wanted to wake people up with it. I like to analyze my opponents and think to myself, 'Ok, let's see how they react if I provoke them a bit," he stated. 
At the end of last season, Chelsea fans experienced one of the lowest moments in the club's history when Roman Abromavich was forced to sell the West London-based club due to the Russia-Ukraine war. 
The powerful center-half was one of the most trusted players by Chelsea fans, particularly during the end of his stint.
He helped Chelsea win several trophies including the prestigious UEFA Champions League title in 2021 and the FIFA club world cup trophy.
Rudiger left Chelsea for European giants Real Madrid at the end of the 2021/2022 season on a free transfer.
He signed a lucrative contract with the Los Blancos and is expected to play for them until 2026.
Rudiger, who has African roots, is in contention to represent reigning Champions Germany at the upcoming 2022 FIFA World Cup.
Also Read: Qatar Issues Travel Advisory Ahead of 2022 World Cup