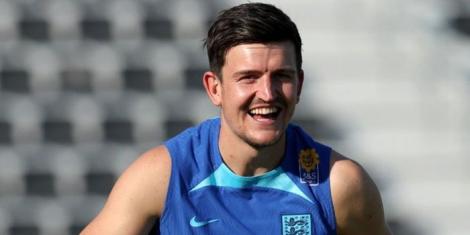 English defender Jacob Harry Maguire on Thursday, December 8, 2022, disclosed that he tells his family to avoid social media platforms. 
According to the defender who plies his trade at Manchester United, his advice was informed by the need to safeguard his loved ones from online abuse.
"I don't read too much if I'm being honest. You pick up bits and bobs and maybe my family read things more than me. I tell them to stay off [social media], but maybe they don't because it's a habit for most people these days.
Also Read: Ghanaian MPs Discuss Harry Maguire.
"So, when I look back on my career and put everything into perspective, if I was a young boy then I'm living the dream. I'm doing everything I always wanted to do," the 29-year-old was quoted by BBC Sport.
According to a report published by the Alan Turing Institute four months ago, Maguire and his Red Devils' teammate Cristiano Ronaldo were among the most abused footballers on social media.
Marcus Rashford, Bruno Fernandes, and Tottenham Hotspur forward Harry Kane also received significant abuse according to the report.
In addition, Maguire, who joined Manchester United in 2019 in a record transfer as the most expensive defender stated that he wants to start winning trophies.
He highlighted his career successes with both Manchester United where he is the team captain and the national team where he has made 52 appearances for the Three Lions.
"Where I'm at the moment, the next stage of my career I want to start winning trophies.
"The last year has been difficult, and I haven't played as well as I've done in the previous five years at the top level," Maguire professed. 
The former Leicester City player also praised Ballon d'Or winners Lionel Messi and Christiano Ronaldo as the only players who have never had a dip in their careers. 
Also Read: Man United Stars Among Most Abused EPL Players - Twitter Analysis Report.